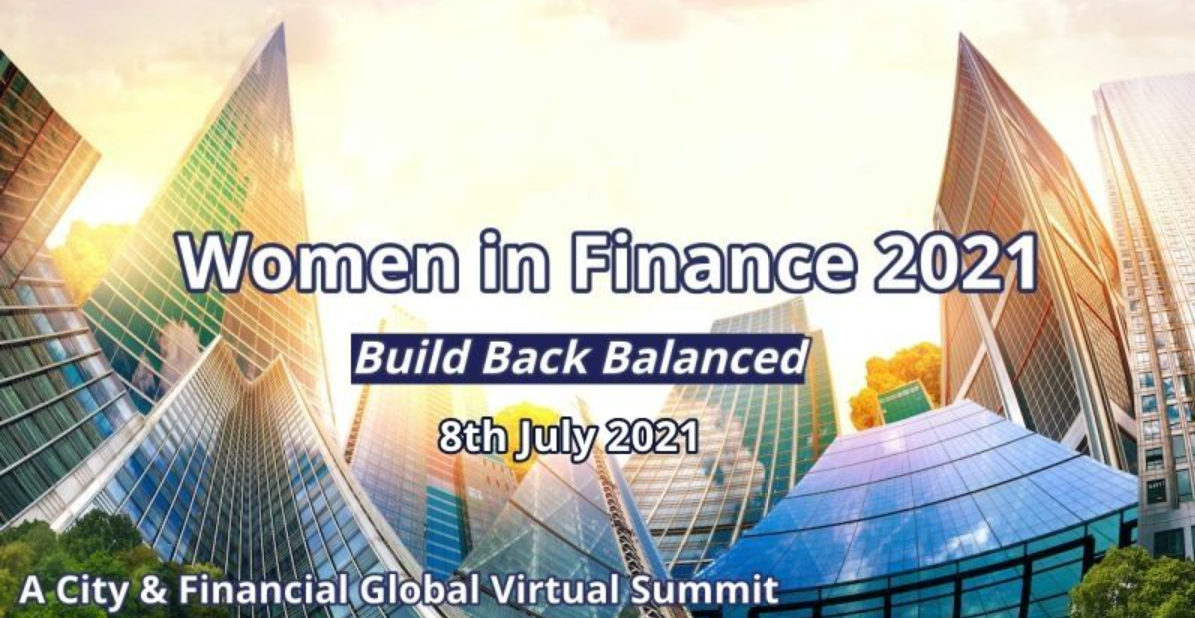 08 July, 2021
Women in Finance Summit 2021
Programme (only available in English)
8:30 AM - 8:55 AM: Virtual venue opens for networking
8:50 AM - 8:55 AM: Introduction Maurice Button, CEO, City & Financial Global
SESSION ONE
8:55 AM - 9:05 AM: Pre-recorded video address Anna Lane, President, Women in Banking and Finance; Founder and CEO, The Wisdom Council
Speaker Biogs: Anna Lane
9:05 AM - 9:15 AM: Chair's opening remarks
Vivienne Artz OBE, Chief Privacy Officer & Managing Director, London Stock Exchange Group
Speaker Biogs: Vivienne Artz OBE
9:15 AM - 9:30 AM: Keynote address I Gender diversity: An ever-greater imperative for financial services
John Glen MP, Economic Secretary to the Treasury and City Minister
Speaker Biogs: John Glen MP
9:30 AM - 9:45 AM: Keynote address II June Felix, CEO, IG Group Holdings
Speaker Biogs: June Felix
9:45 AM - 10:50 AM: Panel IWomen leading in challenging times. Building Back Better = Building Back Balanced. What is next for the global economy and why is female leadership key to the UN's Sustainable Development Goals?
Moderator:
Sherry Madera, Chair, Future of Sustainable Data Alliance and Chief Industry & Government Affairs Officer, Refinitiv, London Stock Exchange Group (LSEG)

Panel:
Catherine McGuinness, Chair of the UK Government Diversity Taskforce and Chair of the Policy & Resources Committee at the City of London Corporation
Nicola Watkinson, Managing Director, International Trade and Investment, TheCityUK
Ann Cairns, Executive Vice Chair, Mastercard and Global Chair, 30% Club
Beatrice Hamza Bassey, Board Chair, Union Bank of Nigeria; Group General Counsel and Chief Compliance Officer, Atlas Mara
Suneel Bakhshi, President & CEO, Mizuho International
Speaker Biogs: Ann Cairns, Catherine McGuinness, Suneel Bakhshi, Beatrice Hamza Bassey, Sherry Madera
Break
10:50 AM - 11:30 AM: Networking Break
SESSION TWO
11:30 AM - 12:20 PM: Panel IIThe impact of Brexit, COVID-19 & remote working on women, couples and companies.
Benefits to women of "de-gendering" flexible working.
How far and how fast has the financial services industry been progressing on gender equality in the last year?
Moderator:
Nishma Gosrani OBE, Financial Services Partner, Bain & Company
Panel:
Avivah Wittenberg-Cox, CEO, 20-First
Patricia Cobian, CFO, Virgin Media O2
Mark Freed, CEO, Men for Inclusion/E2W
Kate Phillips, Chief Operating Officer, Financial Crime, NatWest Group
Speaker Biogs: Patricia Cobian, Avivah Wittenberg-Cox, Nishma Gosrani OBE, Mark Freed
12:20 PM - 12:30 PM: Pre-recorded interview with
Yetunde Hofmann, Founder and Director, Solaris
Speaker Biogs: Yetunde Hofmann
12:30 PM - 1:20 PM: Panel III Collecting reliable data to set clear race and gender diversity targets.
How to successfully manage your gender pay gap reporting as the effects of the pandemic continue? Where are we with ethnic pay gap reporting and which challenges are ethnically diverse leaders facing while making their way up to senior roles?
Moderator: Catherine Johnson, Group General Counsel, London Stock Exchange Group
Panel:
Richard Iferenta, Vice Chair, KPMG and Chair, Race Equality Leadership Team, Business in the Community
Sandra Finley, President & CEO, League of Black Women
Claire Tunley, CEO, Financial Services Skills Commission
Angela Yore, Founder, SkyParlour, MD, NED
Speaker Biogs: Sandra Finley, Catherine Johnson, Richard Iferenta, Claire Tunley, Angela Yore
Break
1:20 PM - 2:10 PM: Lunch Break and networking
SESSION THREE
2:10 PM - 2:30 PM: Fireside chat ICelebrating success and sharing the story – female leadership in professional services
2:30 PM - 3:20 PM: Panel IV The antidote to diversity and inclusion fatigue – join us for a thought-provoking discussion with prominent business leaders following the release of the first-year report published as part of WIBF' (Women in Banking and Finance) Accelerating Change Together Research Programme. In this panel we will explore the challenges in realising diversity and inclusion goals, the report findings and practical interventions that can be implemented within existing initiatives to better facilitate meaningful change
Moderators:
Liz Hughes, Director of WIBF's ACT Research Programme
Dr. Grace Lordan, Academic Researcher for the WIBF ACT Research Programme, Associate Professor in Behavioural Science at the London School of Economics and Political Science, Founding Director of the Inclusion Initiative, Author of "Think Big: Take small steps and build the future you want".
Panel:
Sabrina Wilson, MD, Global co-head of Futures, Clearing and FX Prime Brokerage at Citi
Michael Cole-Fontayn, Chairman of AFME
Georgina Philippou, Senior Advisor to the FCA on the Public Sector Equality Duty
Elise Badoy, Head of EMEA Equity Research at Citi & Head of Research at WIBF
Claire Godding, Senior Expert at FEBELFIN for Diversity, Inclusion & Societal Needs and Co-Chair, Women in Finance Belgium
Speaker Biogs: Liz Hughes, Claire Godding, Michael Cole-Fontayn, Georgina Philippou, Sabrina Wilson
3:20 PM - 4:10 PM: Panel V CEOs Who 'Get' gender balance - and deliver it.
How do we improve balance at the board level and how do we leverage the balance that has been built? Longevity, women & ageism: what can we do about the fact that women's careers peak from the age of 50s onwards and most FS institutions have relatively young boards?
Moderator: Avivah Wittenberg-Cox, CEO, 20-First confirmed
Panel:
Marie-Anne Haegeman, Board Member and Chief Risk Officer, Euroclear Bank
Ronan Dunne, Executive VP & Group CEO, Verizon Consumer Group
Tiger Tyagarajan, CEO, Genpact
Kate Grussing, Managing Director, Sapphire Partners
Speaker Biogs: Avivah Wittenberg-Cox, Marie-Anne Haegeman, Ronan Dunne, Kate Grussing, Tiger Tyagarajan
Break
4:10 PM - 4:50 PM: Networking Break
SESSION FOUR
4:50 PM - 5:40 PM: Panel VI "Are we still sending our daughters into companies designed for our dads?"
Developing the careers of the future leaders post Brexit and in the time of social change - which new skills do we need to make those changes? Ensuring a balanced pipeline of tomorrow's talent
Moderator: Natalie Gill, Director of Membership at WIBF and EMEA Director of Diversity & Inclusion at Sumitomo Mitsui Banking Corporation
Panellists:
Euan Blair, CEO, Multiverse
Katrien Goossens, Diversity & Inclusion Lead BeNeLux, ING
Karina Robinson, Co-Director, The Inclusion Initiative, London School of Economics
Kate Surala, Co-Author, Unleash Today
Speaker Biogs: Vivienne Artz OBE, Euan Blair, Karina Robinson
5:40 PM - 5:50 PM: Chair's closing remarks and close of proceedings
Vivienne Artz OBE, Chief Privacy Officer & Managing Director, London Stock Exchange Group
Speaker Blogs: Vivienne Artz OBE
Break
5:50 PM - 6:20 PM: Virtual Networking
We have allocated some extra time for you to connect with your fellow participants! The virtual venue has various networking tools, enabling you to schedule meetings, send private chat messages or even have live video calls with the other participants. Also, why not try the 1-2-1 speed networking tool in the NETWORKING section of the virtual venue - it's fun! Before you leave, remember to collect the handouts from the EXPO area.
Close
6:20 PM - 6:20 PM: Virtual venue closes