30 August, 2021
#3 Portrait d'une femme dans le secteur financier : Fernanda Aspilche Ferro
"One of the criticisms I've faced over the years is that I am not aggressive enough, to assertive enough, or maybe somehow, because I'm empathetic, I'm weak. I totally rebel against that. I refuse to believe that you cannot be both compassionate and strong." – Jacinda Ardern
I had the courage to move to Belgium after my university studies in Spain. I settled for a call centre job at Volvo for years, talking to people about trucks and engines. This is not what I spent 5 years of studying economics for. So, when I saw the opportunity to work at Euroclear, I jumped onto the offer. At that point in time, I was so excited to do something that had to involve finance. As an ambitious student, I always saw myself working in the financial sector. I was very eager to work in an environment where I can learn and progress very quickly. The sector and Euroclear surpassed my expectations! There were activities that provided a broad variety of opportunities and functions that I have never heard of before. Euroclear was, and still is, an environment of growth, flexibility and support.
That support transcended even after my recent diagnosis of Alpha-1 Antitrypsin Deficiency. This is a genetic condition that affects my lungs due to the lack of the alpha-1 antitrypsin protein in my body. My lungs are going backwards, and I am losing capacity at a faster rate than normal. I believe that it is important to be in an environment that gives you the opportunity to not only talk about your issues but offer aid people who are in similar situations. Despite our disabilities, people with rare and chronic conditions have a lot to offer at work. I am lucky that, with Euroclear, I can still have time to do some volunteering work with associations outside of work, such as Alpha-1 Plus, which provides support to people with the illness that I have and to their families. I have witnessed first-hand how important it is to give people with disabilities opportunity to grow and to be included in the workplace. We deserve the chances to show our full potential, because we have a lot to bring into the industry.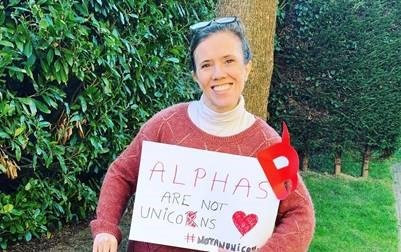 My belief in this comes from a multitude of experiences. One that comes to mind is that when I started off working in operations. I thought that I was more than ready to become a supervisor of my team. I believed that I was the best candidate. However, I had a senior advisor tell me that I was too kind, I wasn't assertive enough and I would have to become strong to become a supervisor. Unfortunately, I almost believed what they had to say. However, after some reflecting, I gained the confidence to apply for the position. I can't tell you how elated it was when I got the role. I had an amazing two years with the team. Fascinating enough, the person who told me that I couldn't do it realised what they had said was indeed not true.
To young women who may one day find themselves in this position, I think that it is important to believe in yourself. New Zealand's Prime Minister, Jacinda Arden, couldn't have said it better, "I refuse to believe that you cannot be both compassionate and strong." Just because somebody, whether it be a college, a senior advisor or a friend, tells you that you are incapable of doing something doesn't make them correct. If you believe in yourself, and you believe that what you want is the right thing to want, go for it! Don't let other people tell you that it's not possible.
Discover all the stories on the Women in Finance Instagram page.